You spend more time inside your home than anywhere else, so why wouldn't you want it to reflect your personal taste and style? Your home defines your lifestyle, and you want to showcase your unique personality through your home. This is where aesthetics come into play. Aesthetics add a layer of personal taste and liveability to the house during any interior renovation.
Top 5 Aesthetics in Renovation
Simply put, aesthetics are a central principle centered around pleasing your design preferences. While many elements define aesthetics in a home renovation, here are five key factors:
Balance
A good balance is essential during your interior renovation no matter what style you choose. For example, no matter what style you choose, comfort is still key to enjoying your home's living space.
A great example is selecting a stylish, trendy couch that you love the design. However, if that couch is placed in a functional space like a living room and it turns out to be highly uncomfortable, what is the point other than to look nice?
Country Chic
While this aesthetic trend has been around for years now, it is constantly evolving. With new trends, new inspirational colors, and new integration ideas, this can be a great way to combine two styles.
Country chic is also a great way to bring some elements that you love into the home. Wood pieces from childhood or fun metal finds can set the tone for country aesthetics and serve as staple pieces.
Minimalist
This aesthetic is perfect for people who enjoy a sleek and modern look in their homes. Even simple accent pieces can draw the eye and be changed up for different looks as your taste evolves.
Natural Elements
Incorporating nature into the home has become more and more popular. This can be as simple as bringing in various plants or adding skylights and live-growing walls.
Coastal or Relaxed
Coastal elements are incredibly popular and pair well with relaxed, natural aesthetics. Some natural elements you can add to your decor are:
Flowers
Branches
Potted Plants
Dried Flower
These are just a few of the aesthetics you can bring into your renovation project when you work with top Dallas contractors.
How Choosing an Aesthetic can Improve Renovation Process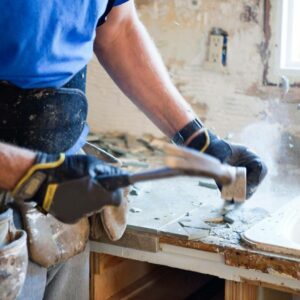 Regarding home renovation, aesthetics are key to creating gorgeous style within your home. Whether you are renovating a single room or the entire house, aesthetics provide the extra layer that showcases your lifestyle choices and how you choose to live.
Your home's aesthetic helps lay the groundwork for your overall renovation. For example, if your lifestyle involves a lot of entertaining or you have a large family, you'll want to consider that when adding open floor plans to your kitchen renovation with a lot of area for counter space and seating that gives people places to gather.
Similarly, if your lifestyle involves a more modern, sleek atmosphere, that can be considered in modern fixtures like the addition of chrome or marble in a bathroom remodel. If you prefer a minimalist life, you can incorporate that into your home's aesthetics in various ways.
Tips to Decide Aesthetics of Home Decor
Your home's aesthetics will be something you live with and live in day in and day out. This is why it's so important to choose something you'll enjoy waking up to, coming home to, and falling asleep to. Some tips for selecting your home's final aesthetics include:
Choose aesthetics that will hold up over time, rather than going by a current trend that will likely fade
Create a "vision board" that includes various elements rather than finding one single image that inspires you
Think about things that make you feel happy in your home. For example, large windows let the light shine through or recessed lighting allows you to control the light and mood.
Choose aesthetics that can be modified by changing out accessories or fixtures
Select aesthetics in layers, starting with the base foundation of the renovation and moving up until you reach smaller details like lightning fixtures
Always remember that this is YOUR home, not the inside of a decor catalog, so choose what you would like to live in every day
Don't rush the process!
Complete a Home Renovation with Shepherd Roofing & Renovation Today!
If you are considering home renovations in Dallas, place your trust in Shepherd Roofing & Renovations. As Dallas' premier renovation company, we work with you to craft your home renovation, including the aesthetics you'll love so much that you may never want to leave home. Our experience and expansive services are sure to exceed your expectations.
Contact us today to schedule your in-home consultation.